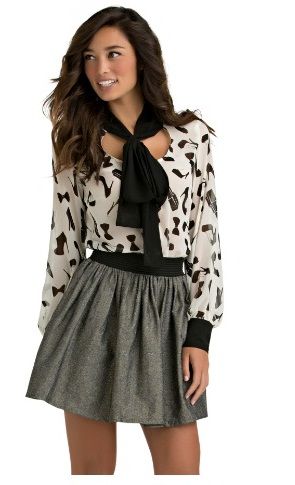 Seriously, you guys. A shirt with heels all over it?! Someone's gotta give me this for Christmas (major hint, hint). I would wear this up and down and all around. And can you believe it's affordable? This chiffon blouse is actually from the Kardashian Kollection line at Sears. Who would've thought, right?
Kourtney recently wore it out and about...and I don't blame her. I love how comfy chiffon is on the skin, and the bow is super femme. Sure it's slightly quirky, but we need to have some fun with our outfits every now and then! Tucked in with a bouncy skirt just like this

(a

n

d major heels, duh), you'll have every head turning asking you where you got your heels. But, you're probably

used to that...
[Photo Courtesy Sears]