It truly is fall (I mean, someone needs to rake leaves, right? haha) and lately I've been living in this get-up from PacSun. I like to call it my weekend wear. A cozy plaid flannel shirt (in Christmas red, no less!) and a latte go great while blogging in front of the fireplace. And while I can't say I do this often, I did actually do this the other day and it was GREAT

.
Now, I know a fashion chick like me should never tell on herself, but here goes. Don't judge, ok? I wore this shirt a couple of weekends in a row...styled different ways, natch. Ok, whew, I feel better. We're all guilty, right? And I have almost as many skinny jeans in my closet as peep-toes, and I can tell you these jeans right here are terrific. They've got stretttttttch, which this girl needs for comfort and fit (I think I'm pear-shaped? aka larger hips and butt!). Now, what sets these two PacSun pieces apart are the cute little details - studs on both. The pockets on the shirt and the front pockets on the jeans both have adorable studded details that make t

hem cute as a button.
And might I mention the amazing riding boots I received out of the clear blue from JustFab? If you know me, you know I can hardly wear any boots that cover my calves - they're larger than life. These? They fit like a glove...I mean, you can see here. I literally giggled as I slid them on. And while I didn't get a shot of the back of the boots (hey, it's a one-woman show here, folks!), they have these amazing buckles all down them. Enough to make several people stop me and say I love your boots.
Oh, and s

i

n

c

e I had a tussle with the curling iron before this shot, I slipped on a "vintage" NY Yankees hat to toughen up the look. Makes everyone think I'm so rugg

ed, right? Shhhh...
Her

e's how I wore everything:
* Red flannel shirt and skinny jeans

gifted by PacSun
* Riding boots gifted b

y JustFab
* Valentina clutch gifted by Botkier
* Vintage NY Yankees baseball cap, straight from the former stadium ;)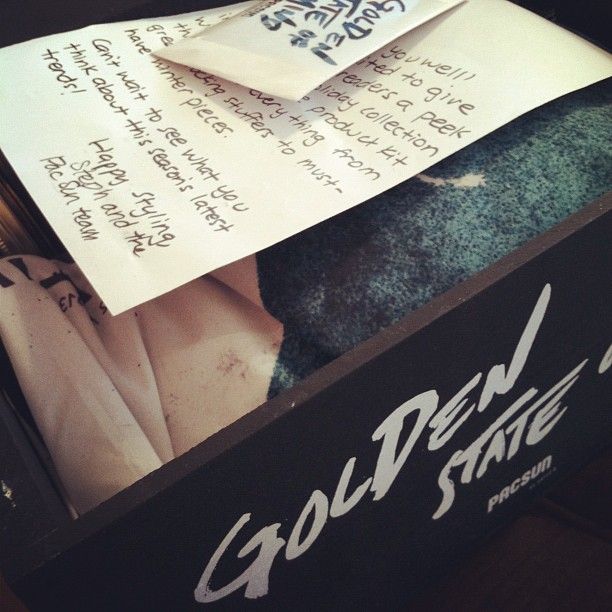 P.S. A humongous "thank you" to PacSun for sending me an entire crate of goodies from the holiday collection. No, really, they sent me a wooden crate chock full of things to try out. Which reminds me...I ha

ve a new pair of sneaker wedges to show you soon...