Let's let the shoes

make their grand entrance

on this one, shall we? I can't think of a single pair of wedges I love more in my closet right now. (shaking my head) Coach, you've outdone yourselves. Really. The Gemma is everything you could ask for in a wedge. It's got that chic strap across the top everyone's raving about (it's trendy, so what...I've always loved it). But the woven pattern on the wedge is just extraordinary...it's a standout, for sure! I'm packing for the beach and these babies are on the checklist.
I feel like I never wear red (ok, I don't), but these shoes bring out a flavor of boldness in me like never before. Instead of playing it safe and wearing a navy dress with them (which I plan to do next time), I went with a vibrant red with an asymmetrical hemline and paired it with distressed slim-cut jeans. I never in my wildest dreams would've thought I would love a slim cut (this is Paper Denim's version of the boyfriend jean), but hold me back, y'all. It's happening! This jean fits in all the right spots...it's baggy where it should be and fitted in the perfect places...like the ankles and the waist. So amazingly comfy for such a slender design, and looks great with a heel or wedge. I rolled them up just one more time to show off that strap! I brought along a handbag from Linea Pelle's newest Venice collection and I couldn't be more obsessed. If you see me and I'm not carrying this handbag lately, well, then I must be at the gym...shrug. I carry it everywhere and the "wood" color truly goes with it all!
I'm counting down another week until I leave for our annual beach vacay and every bit of this outfit is going with.
Here's how I wore my heels:
- Red v-neck shirt by Kenneth Cole
- Gemma red/blue wedge gifted by Coach (these wedges might look tall, but they're very walkable and scream "look at me," obvi. I heart them t

o pieces.)
- "EZE Relaxed 5 Slim" jeans gifted by Paper Denim & Cloth (yep, they're relaxed, yet slim...best combo ever. And

the best part? You get to size down an entire size...whheeee!)
- "Venice" tote gifted by Linea Pelle (such a go-to bag...I reach for

it every morning lately! use the handles or the strap on your shoulder...it's got so much room for all your junk, too.)
- "little C" gold cuff gifted by Rustic Cuff (this was my Mother's Day gift to me in case you didn't read the blog post. I

just love it to pieces!)
-

Handmade g

old earrings via Bang-up Betty (these were a gift from a friend who makes amazing jewelry...the

se are

crafted from 40 caliber shells! creative, right? You can see a tiny glimpse of them in the bottom photo...but to see them close up click on the link just above.

I blame my enormous

hair that day...ugh!)
P.S. Yes, these are the same wedges I gave away the week of the I Heart Heels 5-year anniversary! See how our winner wore them, too. ;)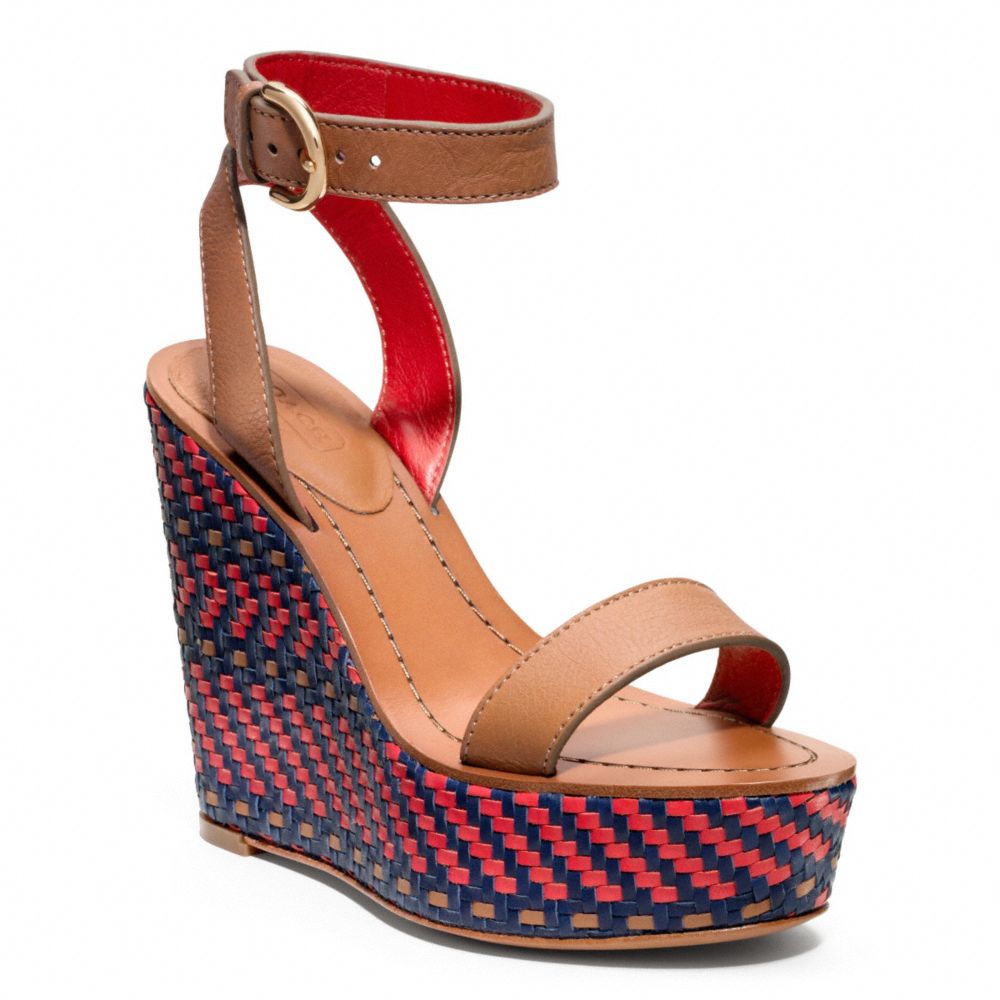 I mean, this wedge is on fire. Click on the image to purchase it!