Happy Spring!! I'm super-excited to share with you a post I've been working on for the past month...COLORED DENIM. Let's all shout with glee! It's *major* in style this spring, but I see it sticking around in my closet for
ever
. Basically, I shopped around and found the best of the best, so you don't have to spend hours in the dressing room. You're welcome. :)
Most Versatility: Sanctuary Charmer Skinny Jeans in Eggplant ($147)
I'm loving purple so much because I feel like it will work all. year. long. And that's great when it comes to saving cash.
One of the best ways to wear colored denim is the monochrome look, shown here.
While this exact eggplant hue isn't currently available for purchase, the newest shade is called "purple haze" and you'll love it just as much...buy it here! Oh, and these run true to size - yay! (P.S. These Rosegold Suzanna heels are to die for...I needed another t-strap in my life and found the perfect one...swoon.)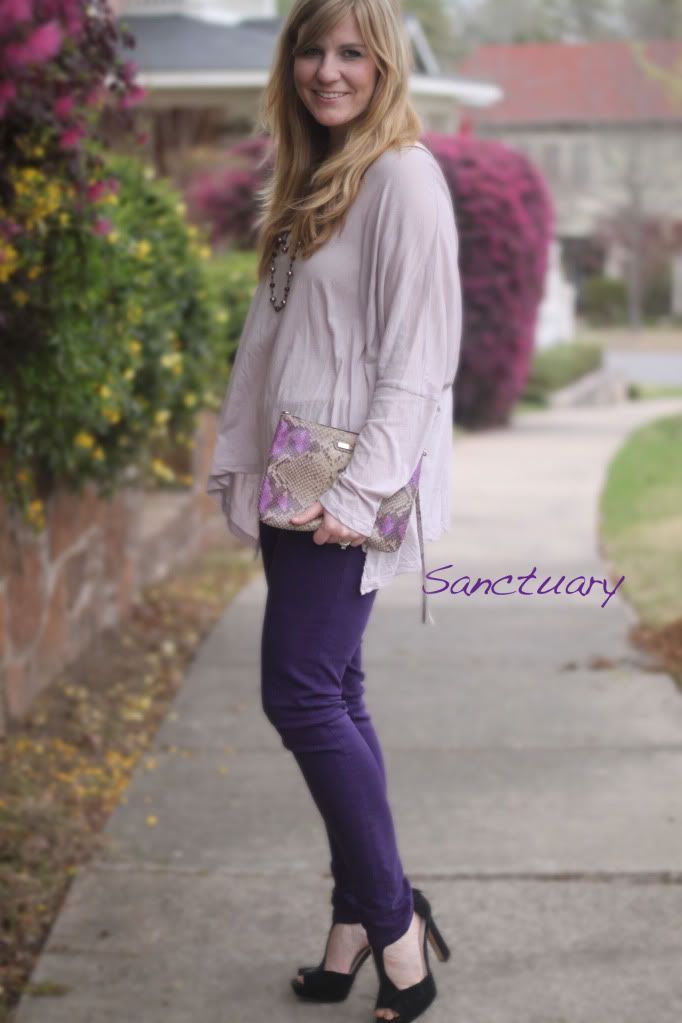 Cape tee by LNA; 3-Zip Rocker clutch gifted by Rebecca Minkoff; T-strap heels gifted by Rosegold
Celebrity Favorite: James Jeans Twiggy in Scarlet ($145)
Nicole Richie, Nicky Hilton, Charlize Theron, Minka Kelly. I honestly think every celebrity owns these jeans, and I now see why. They mold to your skin (in a good way!) so that they feel so good to wear. Pair them with a flowy top (or layer like I did) and either flats or heels...the length is perfect! I'm loving this bright-red color for spring...and it looks so sharp when worn with sharp contrasts like black and white. They're made to fit slim, so don't freak out...they're true to size and so stretchy. Love. (Buy them here!)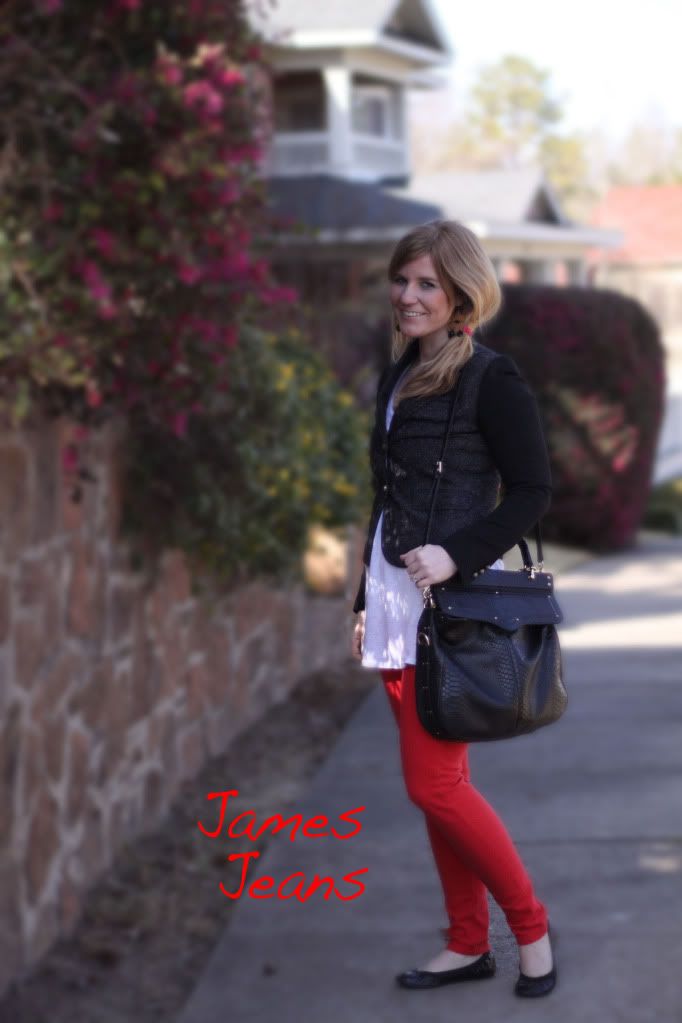 White tank by Elie Tahari; Black blazer gifted by Jessica Simpson Collection; Black handbag by Rebecca Minkoff; Black glitter flats gifted by Wanted Shoes
Best Color: Joe's Jeans The Skinny in Virtual Pink ($158)
I'm SO into this color for spring...pink is it, folks. And it's completely wearable, I swear. It pairs so pretty with brown (and light pink!), but I think white stuns as well. These ran long on me (although the size was true), but that's not a surprise because I have short legs. I took advantage and cuffed the jeans at the ankle and voila! So great for showing off those heels and so very chic. (Buy them here)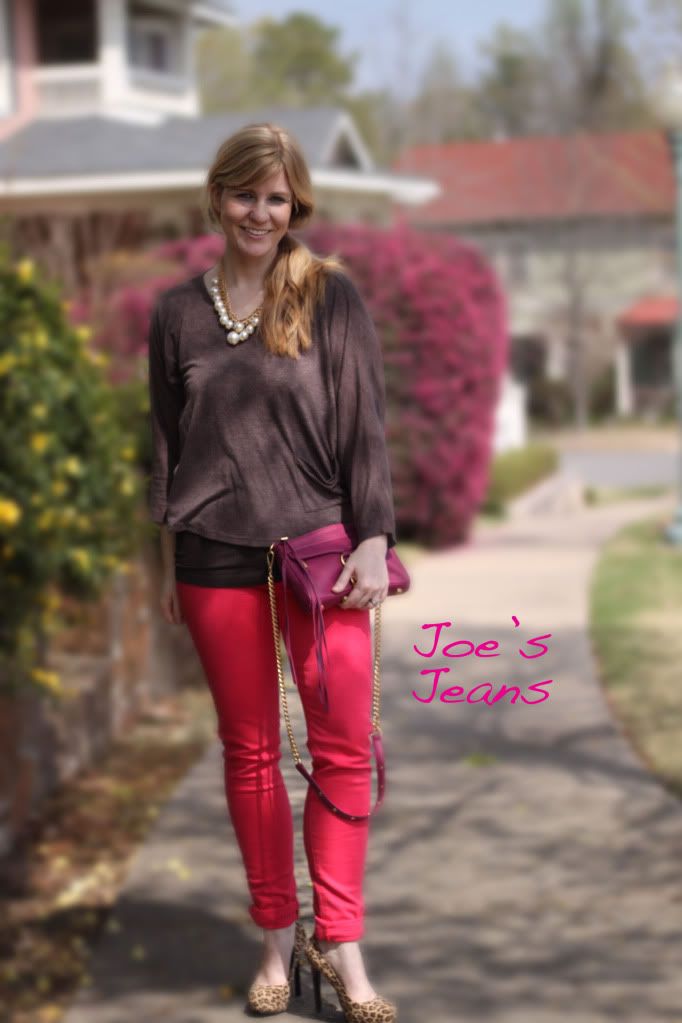 Brown top by Market; Cami by Express; Necklace from local shop, Tulips; Mini MAC gifted by Rebecca Minkoff; Leopard heels by Kardashian Kollection
Best Price:
Express Zelda Jean Legging in Royal Blue ($79.90)
You just can't beat the price on these jeans, right? Most well-fitting jeans these days will run you over $100, but not these. And guess what? They're still amazing. (Hello, Alessandra Ambrosio has a pair.) This blue is a def fav of mine with my hair color and pairs well with other blues...or orange if you're brave. P.S. I did have to size up one on these. Shhh...You can buy the Zelda here!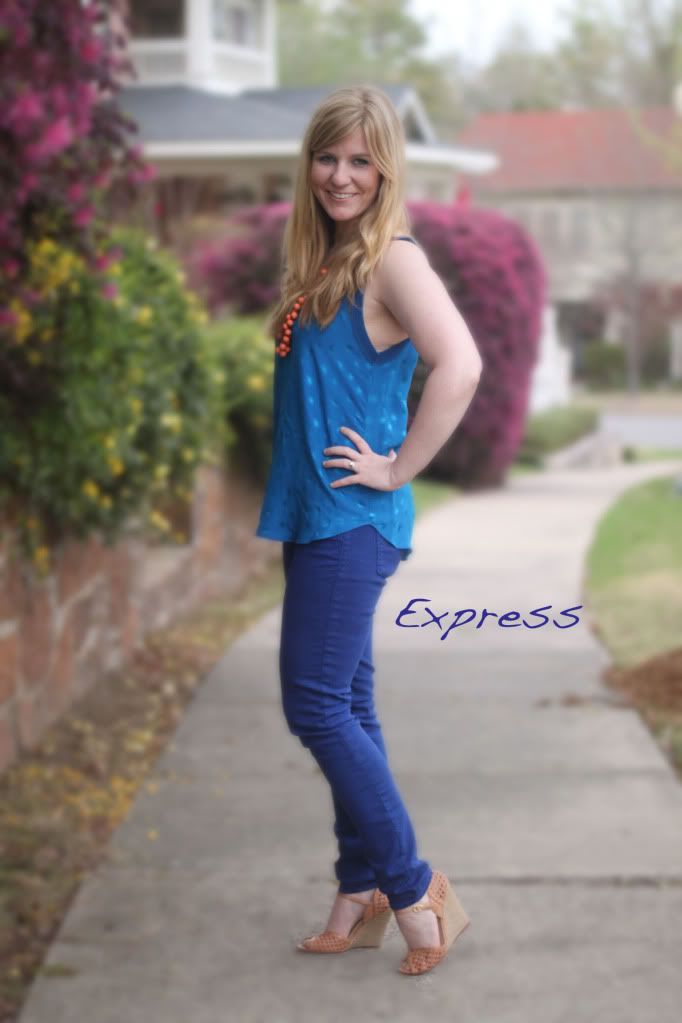 Star tank by Rebecca Taylor; Orange necklace from local shop, Tulips; Wedges gifted by Alexander Birman
Best Fit: J Brand 811 Mid Rise Skinny in Emerald ($176)
These are a celeb fav as well, and I actually already own a pair in a gorgeous "truffle" brown hue. That's why I knew I needed to size up one size this time when I tried the green - magic. I could LIVE in these jeans...they're perfect - in length, in width, in everything. And while I believe the emerald hue is currently sold out, these jeans come in 8 million (well maybe not that many!) hues, so you're sure to find a fav of your own.
(Buy them in the online I Heart Heels store!)
Coral tee gifted by LNA; Pearl necklace from local shop, Tulips
[Disclosure: All denim shown here was gifted to me for the purpose of this article and in no way influences my opinions on any of them. Got that? Wink.]